Student Assistant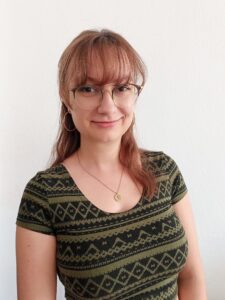 Research Focus and Interests
Anti-racism film theory
Gender Studies and feminist film theory
Dramaturgy and narrative theory
Theresa Krebs studies Film Studies and Audiovisual Publishing at Johannes Gutenberg-University Mainz and is working towards a Bachelor of Arts degree.
She has already had the privilege of co-leading the Autonomous Tutorial of Film Studies and Media Dramaturgy twice as a student assistant: In the summer semester of 2022, she curated films on Black Horror Cinema. In the winter semester of 2022/23, she founded the student editorial team Irgendwas mit Medien that developed and published a print magazine.
She is also part of the organization team for Round Table Antidiskriminierung.